重要研究成果
Nature Commmunictions 11, 4233 (2020).

Nonnoble metal catalysts are low-cost alternatives to Pt for the oxygen reduction reactions (ORRs), which have been studied for various applications in electrocatalytic systems. Among them, transition metal complexes, characterized by a redox-active single-metal-atom with biomimetic ligands, such as pyrolyzed cobalt–nitrogen–carbon (Co–N x /C), have attracted considerable attention. Therefore, we reported the ORR mechanism of pyrolyzed Vitamin B12 using operando X-ray absorption spectroscopy coupled with electrochemical impedance spectroscopy, which enables operando monitoring of the oxygen binding site on the metal center. material design strategies for high-performance electrocatalysts for fuel cell applications. Furthermore, the charge transfer mechanism between the catalyst and reactant enables further Co–O species formation. These experimental findings, provide insight into metal active-site geometry and structural evolution during ORR, which could be used for developing material design strategies for high performance electrocatalysts for fuel cell applications.
Nature Communication 11, 2787 (2020)
Availability of relativistically intense, single-cycle, tunable infrared sources will open up newareas of relativistic nonlinear optics of plasmas, impulse IR spectroscopy and pump-probeexperiments in the molecular fingerprint region. However, generation of such pulses is still achallenge by current methods. Recently, it has been proposed that time dependent refractiveindex associated with laser-produced nonlinear wakes in a suitably designed plasma densitystructure rapidly frequency down-converts photons. The longest wavelength photons slipbackwards relative to the evolving laser pulse to form a single-cycle pulse within the nearlyevacuated wake cavity. This process is called photon deceleration. Here, we demonstrate thisscheme for generating high-power (~100 GW), near single-cycle, wavelength tunable(3–20 μm), infrared pulses using an 810 nm drive laser by tuning the density profile of theplasma. We also demonstrate that these pulses can be used to in-situ probe the transient andnonlinear wakes themselves.
ACS Appl. Mater. Interfaces 12, 3847−3853 (2020).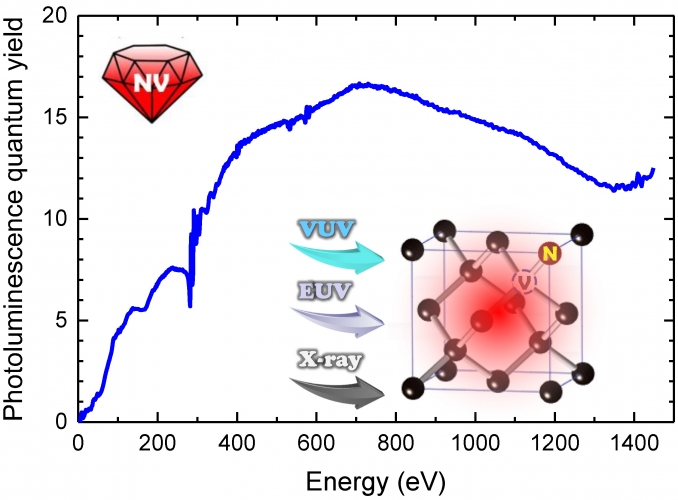 Fluorescent nanodiamond (FND) containing nitrogen-vacancy (NV) centers as built-in fluorophores exhibits a nearly constant emission profile over 550 – 750 nm upon excitation by vacuum-ultraviolet (VUV), extreme ultraviolet (EUV), and X- radiations from a synchrotron source over the energy (wavelength) range of 6.2 – 1450 eV (0.86 – 200 nm). The photoluminescence (PL) quantum yield of FND increases steadily with the increasing excitation energy, attaining a value as great as 1700% at 700 eV (1.77 nm). Notably, the yield curve is continuous, having no gap in the VUV to X-ray region. In addition, no significant PL intensity decreases were observed for hours. Applying the FND sensor to measure the absorption cross sections of gaseous O2 over 110 – 200 nm and comparing the measurements with the sodium-salicylate scintillator, we obtained results in agreement with each other within 5%. The superb photostability and broad applicability of FND offer a promising solution for the long-standing problem of lacking a robust and reliable detector for VUV, EUV, and X- radiations.
目前位置:關於本所 / 重要研究成果 / 第 4 頁