重要研究成果
Advanced Science, doi:/10.1002/advs.202001467 (2020).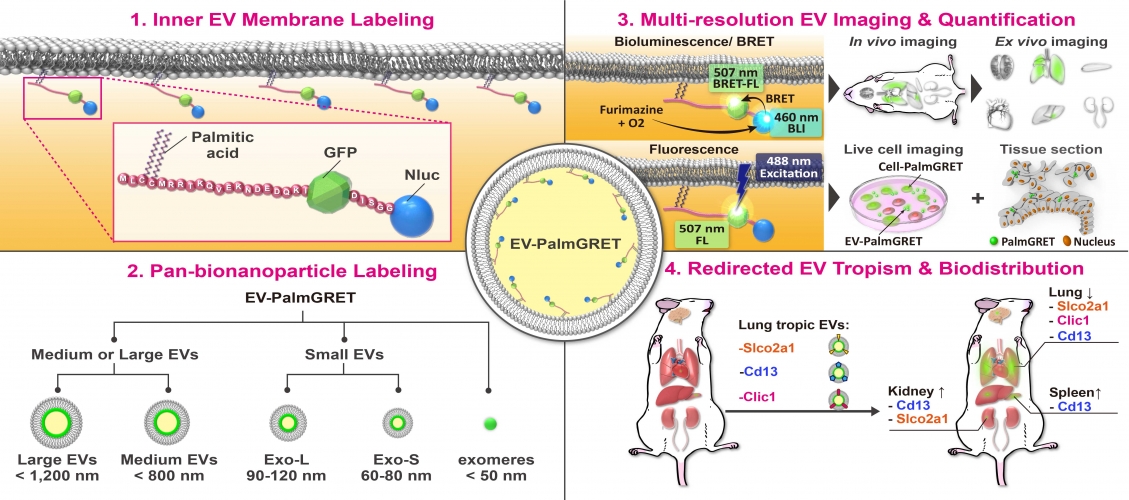 Extracellular particles (EPs) including extracellular vesicles (EVs) and exomeres play significant roles in diseases and therapeutic applications. However, their spatiotemporal dynamics in vivo have remained largely unresolved in detail due to the lack of a suitable method. Therefore, a bioluminescence resonance energy transfer (BRET)‐based reporter, PalmGRET, is created to enable pan‐EP labeling ranging from exomeres (<50 nm) to small (<200 nm) and medium and large (>200 nm) EVs. PalmGRET emits robust, sustained signals and allows the visualization, tracking, and quantification of the EPs from whole animal to nanoscopic resolutions under different imaging modalities, including bioluminescence, BRET, and fluorescence. Using PalmGRET, it is shown that EPs released by lung metastatic hepatocellular carcinoma (HCC) exhibit lung tropism with varying distributions to other major organs in immunocompetent mice. It is further demonstrated that gene knockdown of lung‐tropic membrane proteins, solute carrier organic anion transporter family member 2A1, alanine aminopeptidase/Cd13, and chloride intracellular channel 1 decreases HCC‐EP distribution to the lungs and yields distinct biodistribution profiles. It is anticipated that EP‐specific imaging, quantitative assays, and detailed in vivo characterization are a starting point for more accurate and comprehensive in vivo models of EP biology and therapeutic design.
Nature Communication 11, 2787 (2020)
Availability of relativistically intense, single-cycle, tunable infrared sources will open up newareas of relativistic nonlinear optics of plasmas, impulse IR spectroscopy and pump-probeexperiments in the molecular fingerprint region. However, generation of such pulses is still achallenge by current methods. Recently, it has been proposed that time dependent refractiveindex associated with laser-produced nonlinear wakes in a suitably designed plasma densitystructure rapidly frequency down-converts photons. The longest wavelength photons slipbackwards relative to the evolving laser pulse to form a single-cycle pulse within the nearlyevacuated wake cavity. This process is called photon deceleration. Here, we demonstrate thisscheme for generating high-power (~100 GW), near single-cycle, wavelength tunable(3–20 μm), infrared pulses using an 810 nm drive laser by tuning the density profile of theplasma. We also demonstrate that these pulses can be used to in-situ probe the transient andnonlinear wakes themselves.
eLife 9, e53580 (2020).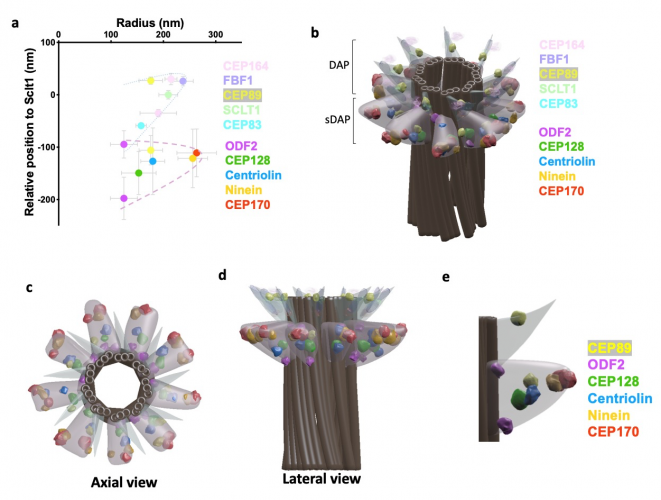 Subdistal appendages (sDAPs) are centriolar elements observed proximal to the distal appendages (DAPs) in vertebrates. Despite their obvious presence, structural and functional understanding of sDAPs remains elusive. Here, by combining super-resolved localization analysis and CRISPR-Cas9 genetic perturbation, we find that, although DAPs and sDAPs are primarily responsible for distinct functions in ciliogenesis and microtubule anchoring respectively, the presence of one element actually affects the positioning of the other. Specifically, we find dual layers of both ODF2 and CEP89, where their localizations are differentially regulated by DAP and sDAP integrity. DAP depletion relaxes longitudinal occupancy of sDAP protein ninein to cover the DAP region, implying a role of DAPs in sDAP positioning. Removing sDAPs alter the distal border of centrosomal γ-tubulins, illustrating a new role of sDAPs. Together, our results provide an architectural framework of sDAPs to shed light on functional understanding, surprisingly revealing the coupling between DAPs and sDAPs.
ACS Appl. Mater. Interfaces 12, 3847−3853 (2020).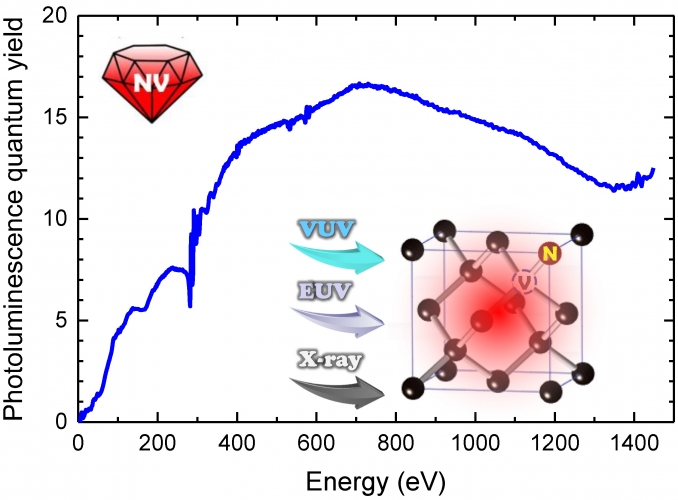 Fluorescent nanodiamond (FND) containing nitrogen-vacancy (NV) centers as built-in fluorophores exhibits a nearly constant emission profile over 550 – 750 nm upon excitation by vacuum-ultraviolet (VUV), extreme ultraviolet (EUV), and X- radiations from a synchrotron source over the energy (wavelength) range of 6.2 – 1450 eV (0.86 – 200 nm). The photoluminescence (PL) quantum yield of FND increases steadily with the increasing excitation energy, attaining a value as great as 1700% at 700 eV (1.77 nm). Notably, the yield curve is continuous, having no gap in the VUV to X-ray region. In addition, no significant PL intensity decreases were observed for hours. Applying the FND sensor to measure the absorption cross sections of gaseous O2 over 110 – 200 nm and comparing the measurements with the sodium-salicylate scintillator, we obtained results in agreement with each other within 5%. The superb photostability and broad applicability of FND offer a promising solution for the long-standing problem of lacking a robust and reliable detector for VUV, EUV, and X- radiations.
目前位置:關於本所 / 重要研究成果 / 第 4 頁