重要研究成果
Nature Commmunictions 11, 4233 (2020).

Nonnoble metal catalysts are low-cost alternatives to Pt for the oxygen reduction reactions (ORRs), which have been studied for various applications in electrocatalytic systems. Among them, transition metal complexes, characterized by a redox-active single-metal-atom with biomimetic ligands, such as pyrolyzed cobalt–nitrogen–carbon (Co–N x /C), have attracted considerable attention. Therefore, we reported the ORR mechanism of pyrolyzed Vitamin B12 using operando X-ray absorption spectroscopy coupled with electrochemical impedance spectroscopy, which enables operando monitoring of the oxygen binding site on the metal center. material design strategies for high-performance electrocatalysts for fuel cell applications. Furthermore, the charge transfer mechanism between the catalyst and reactant enables further Co–O species formation. These experimental findings, provide insight into metal active-site geometry and structural evolution during ORR, which could be used for developing material design strategies for high performance electrocatalysts for fuel cell applications.
Nature Commmunictions 11, 3682 (2020).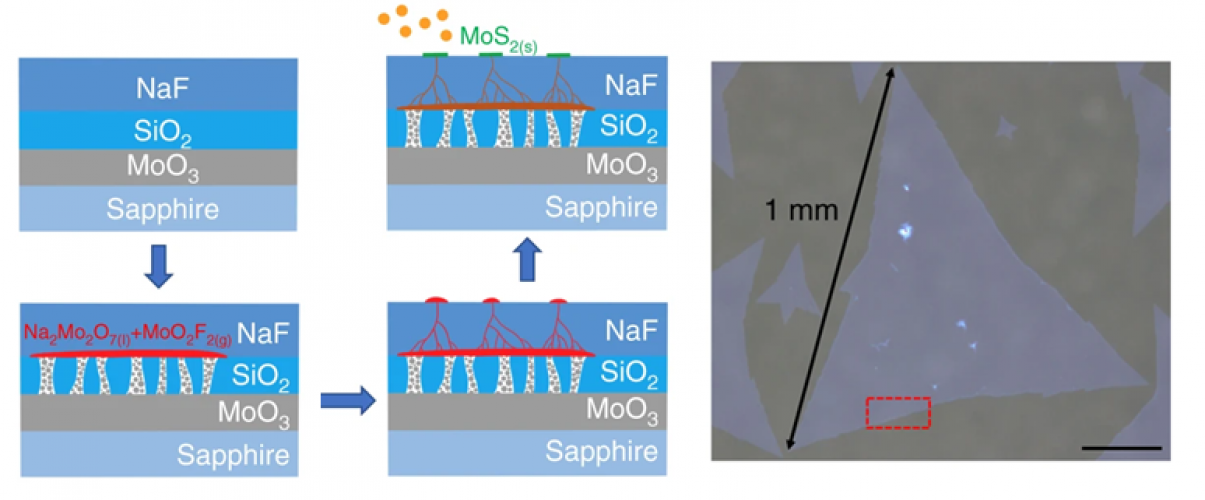 In this study, a self-capping vaporliquid-solid reaction is proposed to fabricate large-grain, continuous MoS2 films. An intermediate liquid phase-Na2Mo2O7 is formed through a eutectic reaction of MoO3 and NaF,followed by being sulfurized into MoS2. The as-formed MoS2 seeds function as a capping layer that reduces the nucleation density and promotes lateral growth. By tuning the driving force of the reaction, large mono/bilayer (1.1 mm/200 μm) flakes or full-coverage films (with a record-high average grain size of 450 μm) can be grown on centimeter-scale substrates. The field-effect transistors fabricated from the full-coverage films show high mobility (33 and 49 cm2V-1s-1 for the mono and bilayer regions) and on/off ratio (1 ~ 5 × 108) across a 1.5 cm × 1.5 cm region.
Advanced Functional Materials, 2004370 (2020).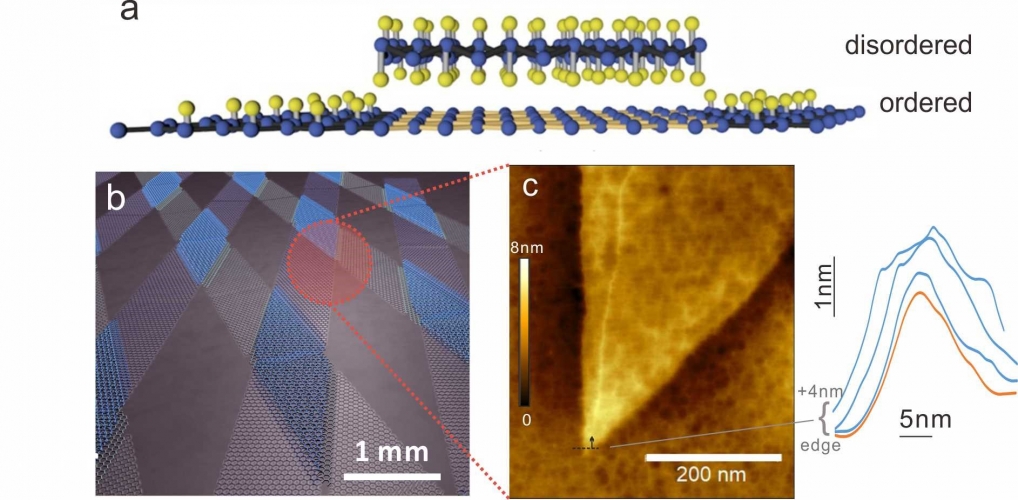 Atomic‐precision patterning at large scale is a central requirement for nanotechnology and future electronics that is hindered by the limitations of lithographical techniques. Historically, imperfections of the fabrication tools have been compensated by multi‐patterning using sequential lithography processes. The realization of nanometer‐scale features from much larger patterns through offset stacking of atomically thin masks is demonstrated. A unique mutual stabilization effect between two graphene layers produces atomically abrupt transitions that selectively expose single‐layer covered regions. Bilayer regions, on the other hand, protect the underlying substrate from removal for several hours permitting transfer of atomic thickness variations into lateral features in various semiconductors. Nanoscopic offsets between two 2D materials layers could be introduced through bottom‐up and top‐down approaches, opening up new routes for high‐resolution patterning. A self‐aligned templating approach yields nanometer‐wide bilayer graphene nanoribbons with macroscopic length that produces high‐aspect‐ratio silicon nanowalls. Moreover, offset‐transfer of lithographically patterned graphene layers enables multipatterning of large arrays of semiconductor features whose resolution is not limited by the employed lithography and could reach <10 nm feature size. The results open up a new route to combining design flexibility with unprecedented resolution at large scale.
J. Phys. Chem. Lett. 11, 16, 6796–6804 (2020).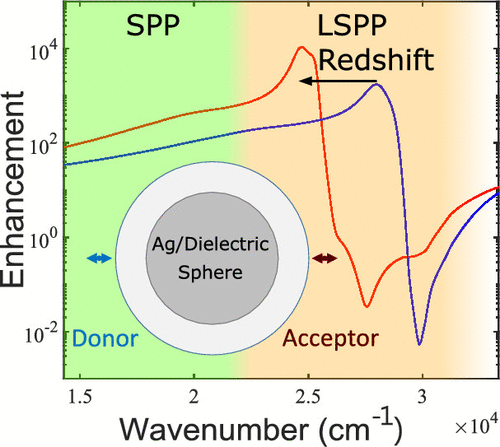 We investigate the intrinsic characteristics of resonance energy transfer (RET) coupled with localized surface plasmon polaritons (LSPPs) from the perspective of macroscopic quantum electrodynamics. To quantify the effect of LSPPs, we propose a numerical scheme that allows us to accurately calculate the rate of RET between a donor–acceptor pair near a nanoparticle. Our study shows that LSPPs can be used to enhance the RET rate significantly and control its frequency dependence by modifying a core/shell structure, which indicates the possibility of RET rate optimization. Moreover, we systematically explore the angle (distance) dependence of the RET rate and analyze its origin. According to different frequency regimes, the angle dependence of RET is dominated by different mechanisms, such as LSPPs, surface plasmon polaritons (SPPs), and anti-resonance. For the proposed core/shell structure, the characteristic distance of RET coupled with LSPPs (approximately 0.05 emission wavelength) is shorter than that of RET coupled with SPPs (approximately 0.1 emission wavelength), which may provide promising applications in energy science.
J. Phys. Chem. Lett. 11, 15, 5948–5955 (2020).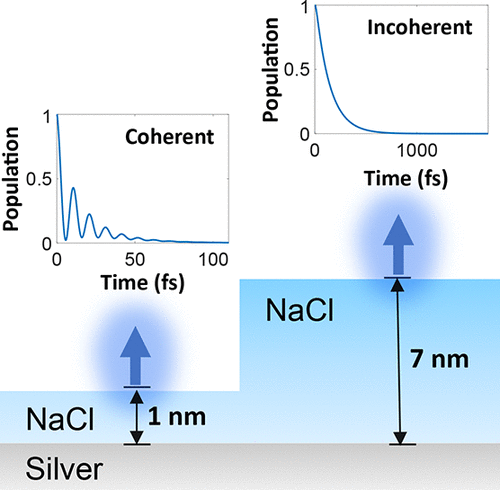 We investigate the coherent-to-incoherent transition of molecular fluorescence of a chromophore above a silver surface (including bulk and thin-film systems) and explore the distance dependence of fluorescence rate enhancement. In the framework of macroscopic quantum electrodynamics, we generalize our previous theory to include multiple vibrational modes. The present theory can accurately describe quantum dynamics from the coherent limit to the incoherent limit. Moreover, we introduce a new concept Incoherent Index to quantify the degree of quantum coherence and demonstrate that the coherent-to-incoherent transition can be controlled by the dielectric environment and the molecule–silver distance. In addition, our theory indicates that strong molecule–photon (polariton) coupling can be achieved by virtue of small Huang–Rhys factors, large transition dipole moments, and appropriate dielectric material design. The present study provides a new direction for engineering light–matter interactions in polaritonic chemistry.
目前位置:關於本所 / 重要研究成果 / 第 1 頁