重要研究成果
The Journal of Physical Chemistry Letters 11, 10067 (2020); https://doi.org/10.1021/acs.jpclett.0c03059.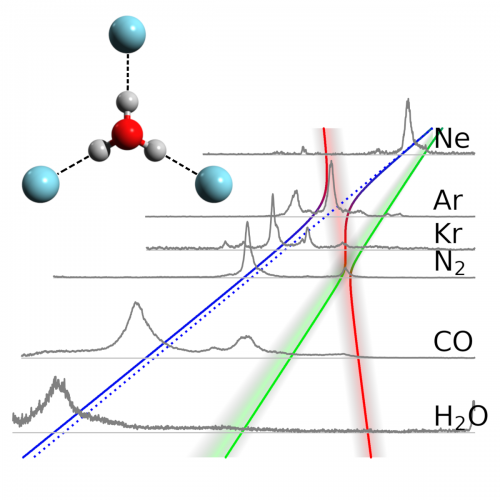 Complex vibrational features of solvated hydronium ion, H3O+, in 3 μm enable us to look into the vibrational coupling among O-H stretching modes and other degrees of freedom. Two anharmonic coupling schemes have often been engaged to explain observed spectra: coupling with OH bending overtone, known as Fermi resonance (FR), has been proposed to account for the splitting of the OH stretch band at ~3300 cm-1 in H3O+…Ar3, but an additional peak in H3O+…(N2)3 at the similar frequency region has been assigned to a combination band (CB) with the low-frequency intermolecular stretches. While even stronger vibrational coupling is expected in H3O+…(H2O)3, such pronounced peaks are absent. In the present study, vibrational spectra of H3O+…Kr3 and H3O+…(CO)3 are measured to complement the existing spectra. Using ab initio anharmonic algorithms, we are able to assign the observed complex spectral features, to resolve seemingly contradictory notions in the interpretations, and to reveal simple pictures of the interplay between FR and CB.
Angewandte Chemie International Edition, https://doi.org/10.1002/anie.202012665 (2020).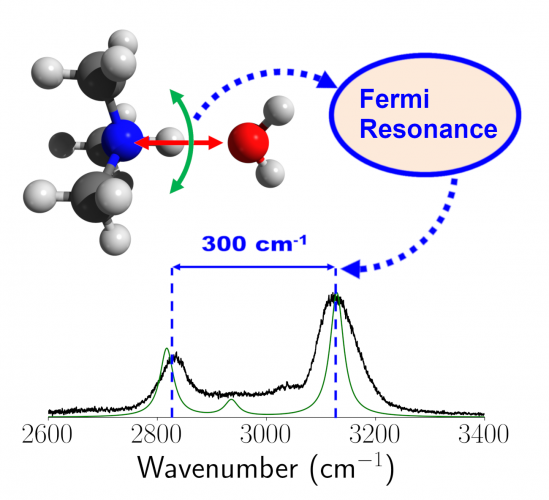 Experimental infrared spectra between 2600 to 3800 cm-1 for a series of asymmetric proton bound dimers with protonated trimethylamine (TMA–H+) as the proton donor were recorded and analyzed. Based on conventional wisdom, the frequency of the N-H+ stretching mode is expected to red shift as the proton affinity of proton acceptors (Ar, N2, CO, C2H2, H2O, CH3OH, and C2H5OH) increases. The observed band, however, shows a peculiar splitting of ≈300 cm-1 with the intensity shifting pattern resembling a two-level system. Theoretical investigation based on ab initio anharmonic algorithms reveals that the observed band splitting and its extraordinarily large gap of ≈300 cm-1 is a result of strong coupling between fundamental of the proton stretching mode and overtone states of the two proton bending modes, that is commonly known as Fermi resonance (FR). We also provide a simple and general theoretical model to link the strong FR coupling to the quasi-two-level system behavior in the observed band intensity. Since the model does not depend on the molecular specification of TMA–H+, the strong coupling we observed here is an intrinsic property associated with proton motions in a wide range of molecular systems.
Journal of Chemical Physics 153, 184102 (2020); https://doi.org/10.1063/5.0027796.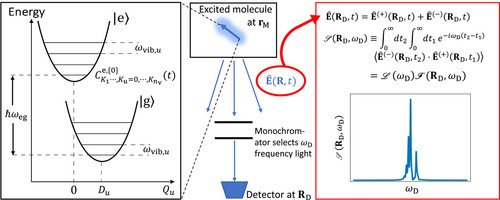 We study the emission power spectrum of a molecular emitter with multiple vibrational modes in the framework of macroscopic quantum electrodynamics. The theory we present is general for a molecular spontaneous emission spectrum in the presence of arbitrary inhomogeneous, dispersive, and absorbing media. Moreover, the theory shows that the molecular emission power spectra can be decomposed into the electromagnetic environment factor and lineshape function. In order to demonstrate the validity of the theory, we investigate the lineshape function in two limits. In the incoherent limit (single molecules in a vacuum), the lineshape function exactly corresponds to the Franck–Condon principle. In the coherent limit (single molecules strongly coupled with single polaritons or photons) together with the condition of high vibrational frequency, the lineshape function exhibits a Rabi splitting, the spacing of which is exactly the same as the magnitude of exciton–photon coupling estimated by our previous theory [S. Wang et al., J. Chem. Phys. 151, 014105 (2019)]. Finally, we explore the influence of exciton–photon and electron–phonon interactions on the lineshape function of a single molecule in a cavity. The theory shows that the vibronic structure of the lineshape function does not always disappear as the exciton–photon coupling increases, and it is related to the loss of a dielectric environment.
Chem, 2020, 6, 3396-3408.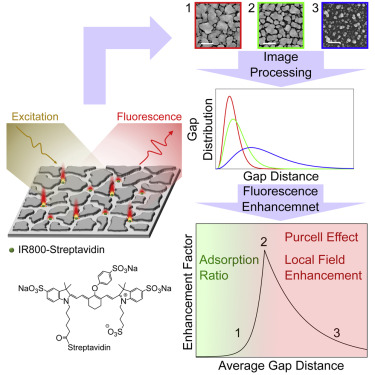 Large-scale inhomogeneous plasmonic metal chips have been demonstrated as a promisingplatform for biochemical sensing, but the origin of their strong fluorescence enhancementsand average gap dependence is a challenging issue due to the complexity of modelingtremendous molecules within inhomogeneous gaps. To address this issue, we bridgedmicroscopic mechanisms and macroscopic observations, developed a kinetic model, andexperimentally investigated the fluorescence enhancement factors of IR800-streptavidinimmobilized on metal nanoisland films (NIFs). Inspired by the kinetic model, we controlledthe distribution of IR800-streptavidin within the valleys of NIFs by regioselectivemodification and achieved the fluorescence intensity enhancement up to 488-fold. Thekinetic model allows us to qualitatively explain the mechanism of fluorescence intensityenhancements and quantitatively predict the trend of experimental enhancement factors,thereby determining the design principles of the plasmonic metal chips. Our studyprovides one key step further toward the sensing applications of large-scale plasmonicmetal chips.
Nature Commmunictions 11, 4233 (2020).

Nonnoble metal catalysts are low-cost alternatives to Pt for the oxygen reduction reactions (ORRs), which have been studied for various applications in electrocatalytic systems. Among them, transition metal complexes, characterized by a redox-active single-metal-atom with biomimetic ligands, such as pyrolyzed cobalt–nitrogen–carbon (Co–N x /C), have attracted considerable attention. Therefore, we reported the ORR mechanism of pyrolyzed Vitamin B12 using operando X-ray absorption spectroscopy coupled with electrochemical impedance spectroscopy, which enables operando monitoring of the oxygen binding site on the metal center. material design strategies for high-performance electrocatalysts for fuel cell applications. Furthermore, the charge transfer mechanism between the catalyst and reactant enables further Co–O species formation. These experimental findings, provide insight into metal active-site geometry and structural evolution during ORR, which could be used for developing material design strategies for high performance electrocatalysts for fuel cell applications.
目前位置:關於本所 / 重要研究成果 / 第 1 頁