重要研究成果
ACS Nano 13(10), 10918-10928 (2019)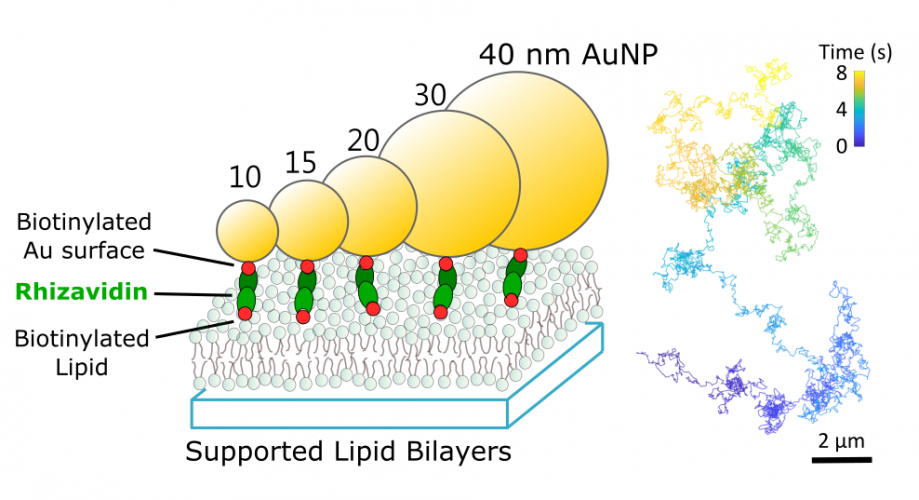 Single-molecule tracking is a powerful method to study molecular dynamics in living systems including biological membranes. High-resolution single-molecule tracking requires a bright and stable signal, which has typically been facilitated by nanoparticles due to their superb optical properties. However, there are concerns about using a nanoparticle to label a single molecule because of its relatively large size and the possibility of cross-linking multiple target molecules, both of which could affect the original molecular dynamics. In this work, using various labeling schemes, we investigate the effects using nanoparticles to measure the diffusion of single-membrane molecules. We demonstrate a simple and robust strategy for the monovalent and oriented labeling of a single lipid molecule with a AuNP by using naturally dimeric rhizavidin (rAv) as a bridge, thus connecting the biotinylated nanoparticle surface and biotinylated target molecule. The rAv–AuNP conjugate shows fast and free diffusion in supported lipid bilayers (2–3 μm2/s for rAv–AuNP sizes of 10–40 nm), which is comparable to the diffusion of dye-labeled lipids, indicating that the adverse size and cross-linking effects are successfully avoided. Our work shows that the measured diffusion of the membrane molecule is highly sensitive to the molecular design of the cross-linker for labeling. The demonstrated approach of monovalent and oriented AuNP labeling provides the opportunity to study single-molecule membrane dynamics at much higher spatiotemporal resolutions and, most importantly, without labeling artifacts.This work is selected as 2019 Significant Research Achievement of Academia Sinica and reported by ACS Nano Perspective (Yanqi Yu, Miao Li, Yan Yu. Tracking Single Molecules in Biomembranes: Is Seeing Always Believing?. ACS Nano 2019, 13 (10) , 10860-10868.)
ACS Appl. Mater. Interfaces 12, 3847−3853 (2020).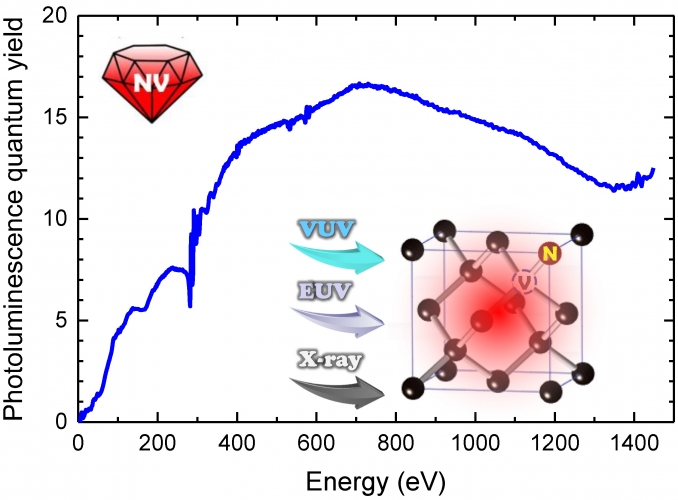 Fluorescent nanodiamond (FND) containing nitrogen-vacancy (NV) centers as built-in fluorophores exhibits a nearly constant emission profile over 550 – 750 nm upon excitation by vacuum-ultraviolet (VUV), extreme ultraviolet (EUV), and X- radiations from a synchrotron source over the energy (wavelength) range of 6.2 – 1450 eV (0.86 – 200 nm). The photoluminescence (PL) quantum yield of FND increases steadily with the increasing excitation energy, attaining a value as great as 1700% at 700 eV (1.77 nm). Notably, the yield curve is continuous, having no gap in the VUV to X-ray region. In addition, no significant PL intensity decreases were observed for hours. Applying the FND sensor to measure the absorption cross sections of gaseous O2 over 110 – 200 nm and comparing the measurements with the sodium-salicylate scintillator, we obtained results in agreement with each other within 5%. The superb photostability and broad applicability of FND offer a promising solution for the long-standing problem of lacking a robust and reliable detector for VUV, EUV, and X- radiations.
Communications Chemistry, 3, 95 (2020)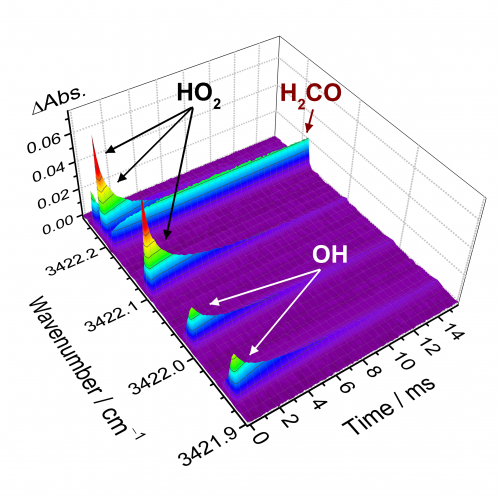 Quantitative determination of multiple transient species is critical in investigating reaction mechanisms and kinetics under various conditions. Dual-comb spectroscopy, a comb-laser-based multi-heterodyne interferometric technique that enables simultaneous achievement of broadband, high-resolution, and rapid spectral acquisition, opens a new era of time-resolved spectroscopic measurements. Employing an electro-optic dual-comb spectrometer with central wavelength near 3 µm coupled with a Herriott multipass absorption cell, here we demonstrate simultaneous determination of multiple species, including methanol, formaldehyde, HO2 and OH radicals, and investigate the reaction kinetics. In addition to quantitative spectral analyses of high-resolution and tens of microsecond time-resolved spectra recorded upon flash photolysis of precursor mixtures, we determine a rate coefficient of the HO2 + NO reaction by directly detecting both HO2 and OH radicals. Our approach exhibits potential in discovering reactive intermediates and exploring complex reaction mechanisms, especially those of radical-radical reactions.
Annals of Clinical and Translational Neurology, 2019 Oct;6(10):1961-1970. DOI:10.1002/acn3.50887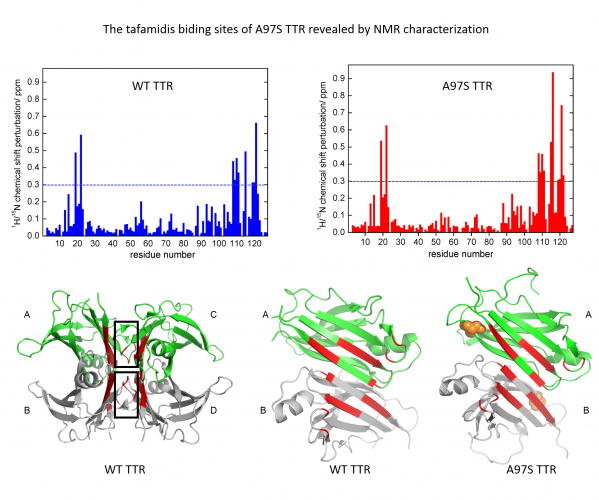 Objective: Ala97Ser (A97S) is the major transthyretin (TTR) mutation in Taiwanese patients of familial amyloid polyneuropathy (FAP), characterized by a late-onset but rapidly deteriorated neuropathy. Tafamidis can restore the stability of some mutant TTR tetramers and slow down the progression of TTR-FAP. However, there is little understanding of the biophysical features of A97S-TTR mutant and the pharmacological modulation effect of tafamidis on it. This study aims to delineate the biophysical characteristics of A97S-TTR and the pharmacological modulation effect of tafamidis on this mutant.Method: The stability of TTR tetramers was assessed by urea denaturation and differential scanning calorimetry. Isothermal titration calorimetry (ITC) was used to measure the binding constant of tafamidis to TTR. Nuclear magnetic resonance spectroscopy (NMR) titration experiment was used to map out the tafamidis binding site.Results: Chemical and thermal denaturation confirmed the destabilization effect of A97S. In consistent with other amyloidogenic mutant, A97S-TTR has slightly lower conformational stability. NMR revealed the binding site of A97S-TTR with tafamidis is at the thyroxine binding pocket. The ITC experiments documented the high affinity of the binding which can effectively stabilize the A97S-TTR tetramer.Interpretation: This study confirmed the structural modulation effect of tafamidis on A97S-TTR and implied the potential therapeutic benefit of tafamidis for A97S TTR-FAP. This approach can be applied to investigate the modulation effect of tafamidis on other rare TTR variants and help to make individualized choices of available treatments for FAP patients.
Journal of Physical Chemistry A, 123, 5300-5308.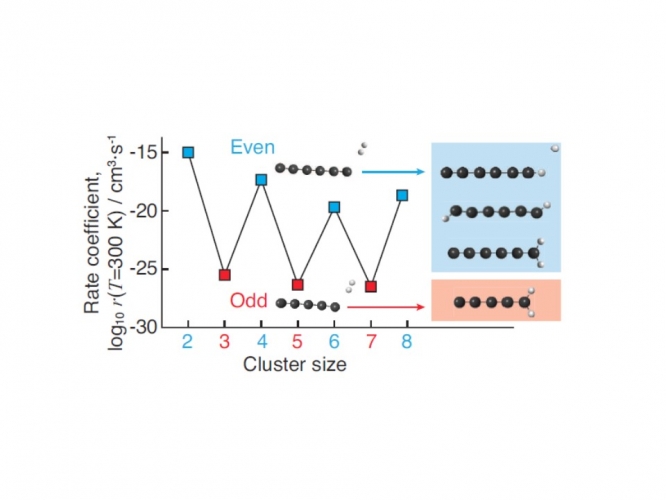 Unsaturated carbon cluster chains often have chemical properties depending on the cluster size. While carbon cluster cation chains show odd−even variation in the reactivity with hydrogen, thechemistry of the carbon anion chain has been poorly understood even for the bimolecular reaction with hydrogen. We present a systematic theoretical study based on transition state calculations and molecular dynamics trajectory simulations for the reaction of Cn− (n = 2−8) + H2. We show that carbon cluster chain anion also has an odd−even variation in reactivity where the even ones are more reactive. In addition, dynamics trajectory shows that while odd n only resulted in the CnH2− product with direct H insertion similar to the static reaction pathway, even n had a more complex product branching producing not only CnH2− but also CnH− + H and HCnH− with the roaming of an H atom. The flexibility of the carbon's valence electrons plays an important role to form different isomers of the double H adducts HCnH− and CnH− from the roaming condition.
目前位置:關於本所 / 重要研究成果 / 第 3 頁