重要研究成果
ACS Nano, 16(2): 2774-2788 (2022).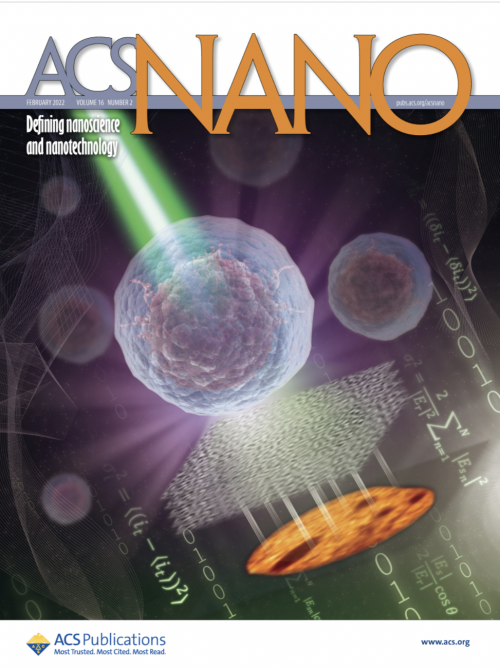 Chromatin is a DNA–protein complex that is densely packed in the cell nucleus. The nanoscale chromatin compaction plays critical roles in the modulation of cell nuclear processes. However, little is known about the spatiotemporal dynamics of chromatin compaction states because it remains difficult to quantitatively measure the chromatin compaction level in live cells. Here, we demonstrate a strategy, referenced as DYNAMICS imaging, for mapping chromatin organization in live cell nuclei by analyzing the dynamic scattering signal of molecular fluctuations. Highly sensitive optical interference microscopy, coherent brightfield (COBRI) microscopy, is implemented to detect the linear scattering of unlabeled chromatin at a high speed. A theoretical model is established to determine the local chromatin density from the statistical fluctuation of the measured scattering signal. DYNAMICS imaging allows us to reconstruct a speckle-free nucleus map that is highly correlated to the fluorescence chromatin image. Moreover, together with calibration based on nanoparticle colloids, we show that the DYNAMICS signal is sensitive to the chromatin compaction level at the nanoscale. We confirm the effectiveness of DYNAMICS imaging in detecting the condensation and decondensation of chromatin induced by chemical drug treatments. Importantly, the stable scattering signal supports a continuous observation of the chromatin condensation and decondensation processes for more than 1 h. Using this technique, we detect transient and nanoscopic chromatin condensation events occurring on a time scale of a few seconds. Label-free DYNAMICS imaging offers the opportunity to investigate chromatin conformational dynamics and to explore their significance in various gene activities.Link to the paper: https://pubs.acs.org/doi/10.1021/acsnano.1c09748Recommended in Faculty Opinion: https://facultyopinions.com/prime/741388510Reported by Science Promotion & Engagement Center: https://spec.ntu.edu.tw/20220322-research-chem/
Nature Communications, 12:6291 (2021).
We here report on the direct observation of ferroelectric properties of water ice in its 2D phase. Upon nanoelectromechanical confinement between two graphene layers, water forms a 2D ice phase at room temperature that exhibits a strong and permanent dipole which depends on the previously applied field, representing clear evidence for ferroelectric ordering. Characterization of this permanent polarization with respect to varying water partial pressure and temperature reveals the importance of forming a monolayer of 2D ice for ferroelectric ordering which agrees with ab-initio and molecular dynamics simulations conducted. The observed robust ferroelectric properties of 2D ice enable novel nanoelectromechanical devices that exhibit memristive properties. A unique bipolar mechanical switching behavior is observed where previous charging history controls the transition voltage between low-resistance and high-resistance state. This advance enables the realization of rugged, non-volatile, mechanical memory exhibiting switching ratios of 106, 4 bit storage capabilities and no degradation after 10,000 switching cycles.
Nano Lett., https://doi.org/10.1021/acs.nanolett.1c02331 (2021).
We here demonstrate the multifunctional properties of atomically thin heterojunctions that are enabled by strong interfacial interactions and their integration into ultra-high performance, self-powered sensors. Epitaxial alignment between tin diselenide and graphene through direct growth produces thermoelectric and mechanoelectric properties beyond the ability of either component. An unprecedented ZT of 2.43 originated from the synergistic combination of graphene's high carrier conductivity and SnSe2 mediated thermal conductivity lowering. Moreover, strong interaction at the SnSe2/graphene interface produces stress localization that results in a novel 2D-crack-assisted strain sensing mechanism whose sensitivity (GF=450) is superior to all other 2D materials. Finally, the graphene-assisted growth process, permits the formation of high-quality heterojunctions directly on polymeric substrates for flexible and transparent self-powered sensors that achieve fast and reliable strain sensing from a small temperature gradient. Our work enhances the fundamental understanding of multifunctionality at the atomic scale and provide a route towards structural health monitoring through ubiquitous and smart devices.
Nature Protocols. doi: 10.1038/s41596-021-00564-8 (2021).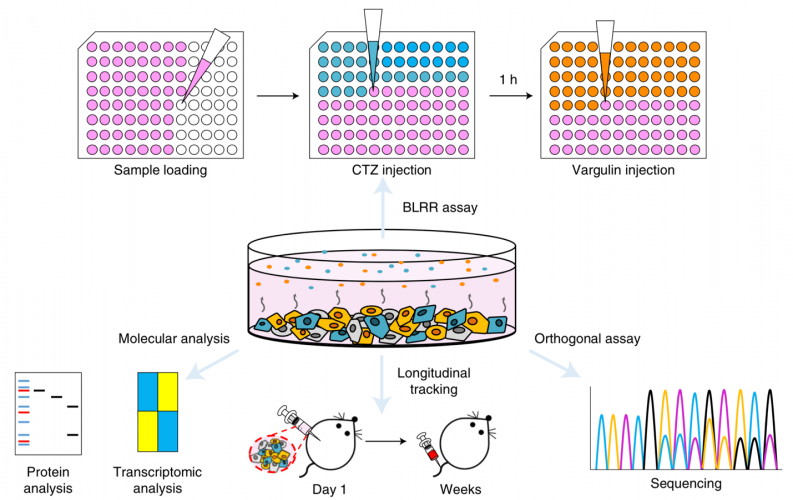 The dynamics of DNA double-strand break (DSB) repairs including homology-directed repair and nonhomologous end joining play an important role in diseases and therapies. However, investigating DSB repair is typically a low-throughput and cross-sectional process, requiring disruption of cells and organisms for subsequent nuclease-, sequencing- or reporter-based assays. In this protocol, we provide instructions for establishing a bioluminescent repair reporter system using engineered Gaussia and Vargula luciferases for noninvasive tracking of homology-directed repair and nonhomologous end joining, respectively, induced by SceI meganuclease, SpCas9 or SpCas9 D10A nickase-mediated editing. We also describe complementation with orthogonal DSB repair assays and omics analyses to validate the reporter readouts. The bioluminescent repair reporter system provides longitudinal and rapid readout (~seconds per sample) to accurately and efficiently measure the efficacy of genome-editing tools and small-molecule modulators on DSB repair. This protocol takes ~2–4 weeks to establish, and as little as 2 h to complete the assay. The entire bioluminescent repair reporter procedure can be performed by one person with standard molecular biology expertise and equipment. However, orthogonal DNA repair assays would require a specialized facility that performs Sanger sequencing or next-generation sequencing.
Proceedings of National Academy of Sciences, 118 (25) e1906938118 (2021).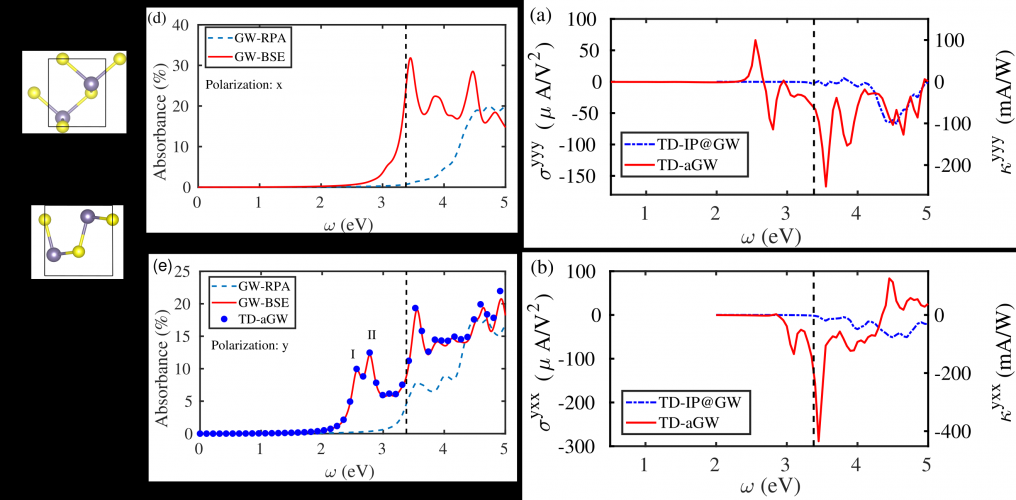 Shift current is a direct current generated from nonlinear light–matter interaction in a noncentrosymmetric crystal and is considered a promising candidate for next-generation photovoltaic devices. The mechanism for shift currents in real materials is, however, still not well understood, especially if electron–hole interactions are included. Here, we employ a first-principles interacting Green's-function approach on the Keldysh contour with real-time propagation to study photocurrents generated by nonlinear optical processes under continuous wave illumination in real materials. We demonstrate a strong direct current shift current at subbandgap excitation frequencies in monolayer GeS due to strongly bound excitons, as well as a giant excitonic enhancement in the shift current coefficients at above bandgap photon frequencies. Our results suggest that atomically thin two-dimensional materials may be promising building blocks for next-generation shift current devices.
目前位置:關於本所 / 重要研究成果 / 第 3 頁