重要研究成果
Advanced Materials. https://doi.org/10.1002/adma.202208966 (2023).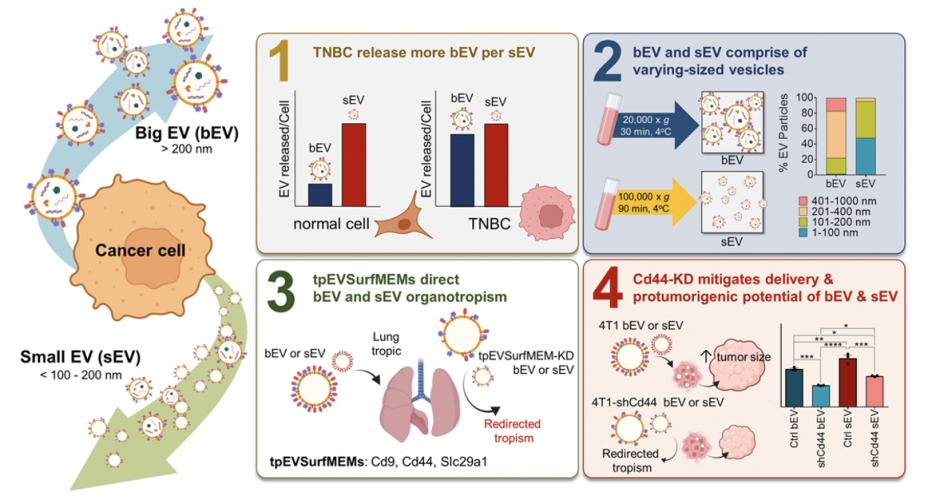 Our latest publication employed PalmGRET, a bioluminescence-resonance-energy-transfer (BRET)-based EV reporter, to discover an abundant release of big EVs (bEVs; >200 nm) by aggressive breast cancers when compared to epithelial and less malignant cells. bEVs have been largely overshadowed by small EVs (sEVs; <200 nm) in EV research in the past decades. This is the first study to accurately detect and systematically compare biophysical property and in vivo profiles of breast cancer bEVs and sEVs. This is followed by the identification of EV surface oncoproteins, and their role in modulating organotropism and tumorigenic potential of the bEVs and sEVs. Our landmark findings impart a broad and deep reference for upcoming EV studies, with an emphasis on EV engineering for diagnosis and therapeutic applications.
Nano Lett., 22, 6, 2270–2276 (2022).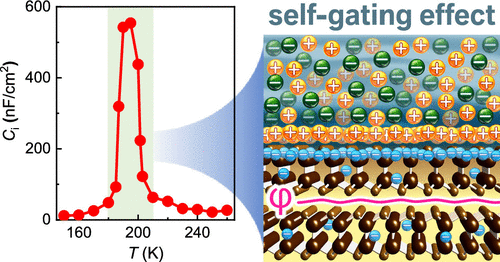 Understanding the Coulomb interactions between two-dimensional (2D) materials and adjacent ions/impurities is essential to realizing 2D material-based hybrid devices. Electrostatic gating via ionic liquids (ILs) has been employed to study the properties of 2D materials. However, the intrinsic interactions between 2D materials and ILs are rarely addressed. This work studies the intersystem Coulomb interactions in IL-functionalized InSe field-effect transistors by displacement current measurements. We uncover a strong self-gating effect that yields a 50-fold enhancement in interfacial capacitance, reaching 550 nF/cm2 in the maximum. Moreover, we reveal the IL-phase-dependent transport characteristics, including the channel current, carrier mobility, and density, substantiating the self-gating at the InSe/IL interface. The dominance of self-gating in the rubber phase is attributed to the correlation between the intra- and intersystem Coulomb interactions, further confirmed by Raman spectroscopy. This study provides insights into the capacitive coupling at the InSe/IL interface, paving the way to developing liquid/2D material hybrid devices.
Nano Energy, 93, 106809 (2022).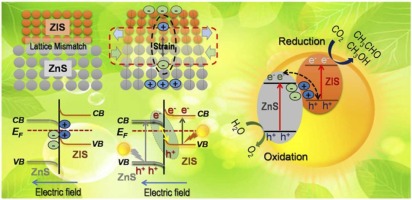 Employing direct Z-scheme semiconductor heterostructures in photocatalysis offers efficient charge carrier separation and isolation of both redox reactions, thus beneficial to reduce CO2 into solar fuels. Here, a ZnS/ZnIn2S4 heterostructure, comprising cubic ZnS nanocrystals on hexagonal ZnIn2S4 (ZIS) nanosheets, is successfully fabricated in a single-pot hydrothermal approach. The composite ZnS/ZnIn2S4 exhibits microstrain at its interface with an electric field favorable for Z-scheme. At an optimum ratio of Zn:In (~ 1:0.5), an excellent photochemical quantum efficiency of around 0.8% is reached, nearly 200-fold boost compared with pristine ZnS. Electronic levels and band alignments are deduced from ultraviolet photoemission spectroscopy and UV-Vis. Evidence of the direct Z-scheme and carrier dynamics is verified by photo-reduction experiment, along with photoluminescence (PL) and time-resolved PL. Finally, diffuse-reflectance infrared Fourier transformed spectroscopy explores the CO2 and related intermediate species adsorbed on the catalyst during the photocatalytic reaction. This microstrain-induced direct Z-scheme approach opens a new pathway for developing next-generation photocatalysts for CO2 reduction.
Journal of Chemical Physics, 157, 184107 (2022).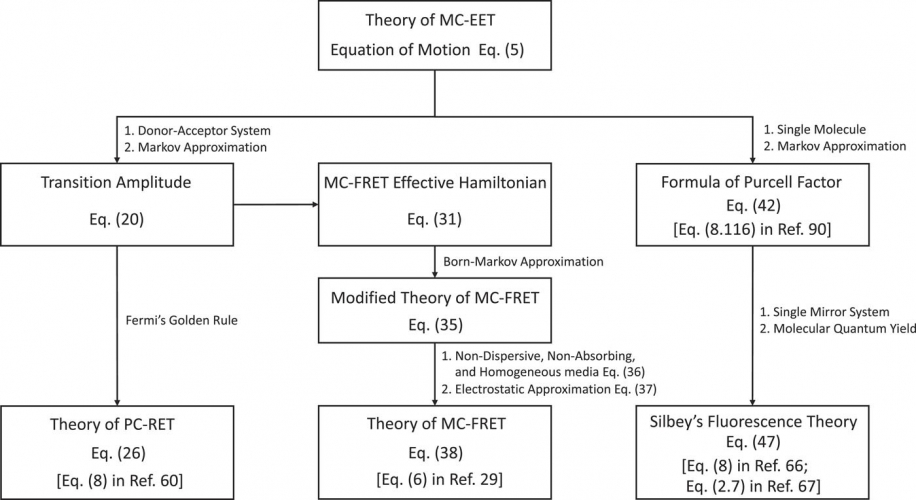 In this study, we develop a theory of multichromophoric excitation energy transfer (MC-EET) in the framework of macroscopic quantum electrodynamics. The theory we present is general for studying the interplay between energy transfer and fluorescence in the presence of arbitrary inhomogeneous, dispersive, and absorbing media. The dynamical equations of MC-EET, including energy-transfer kernels and fluorescence kernels, allow us to describe the combined effects of molecular vibrations and photonic environments on excitation energy transfer. To demonstrate the universality of the MC-EET theory, we show that under specific conditions, the MC-EET theory can be converted to three representative theories. First, under the Markov approximation, we derive an explicit Förster-type expression for plasmon-coupled resonance energy transfer [Hsu et al., J. Phys. Chem. Lett. 8, 2357 (2017)] from the MC-EET theory. In addition, the MC-EET theory also provides a parameter-free formula to estimate transition dipole–dipole interactions mediated by photonic environments. Second, we generalize the theory of multichromophoric Förster resonance energy transfer [Jang et al., Phys. Rev. Lett. 92, 218301 (2004)] to include the effects of retardation and dielectric environments. Third, for molecules weakly coupled with photonic modes, the MC-EET theory recovers the previous main result in Chance–Prock–Silbey classical fluorescence theory [Chance et al., J. Chem. Phys. 60, 2744 (1974)]. This study opens a promising direction for exploring light–matter interactions in multichromophoric systems with possible applications in the exciton migration in metal–organic framework materials and organic photovoltaic devices.
Journal of Physical Chemistry Letters, 13, 9695–9702 (2022).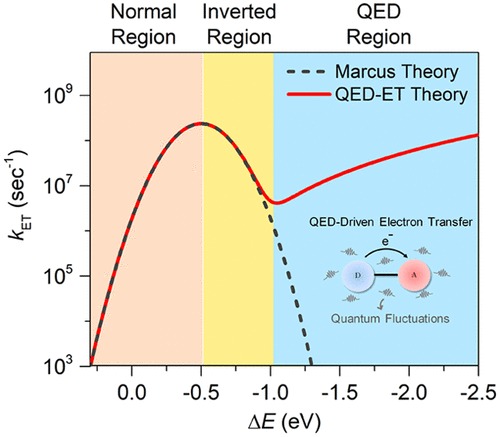 Richard Feynman stated that "The theory behind chemistry is quantum electrodynamics". However, harnessing quantum-electrodynamic (QED) effects to modify chemical reactions is a grand challenge and currently has only been reported in experiments using cavities due to the limitation of strong light–matter coupling. In this article, we demonstrate that QED effects can significantly enhance the rate of electron transfer (ET) by several orders of magnitude in the absence of cavities, which is implicitly supported by experimental reports. To understand how cavity-free QED effects are involved in ET reactions, we incorporate the effect of infinite one-photon states into Marcus theory, derive an explicit expression for the rate of radiative ET, and develop the concept of "electron transfer overlap". Moreover, QED effects may lead to a barrier-free ET reaction whose rate is dependent on the energy-gap power law. This study thus provides new insights into fundamental chemical principles, with promising prospects for QED-based chemical reactions.
目前位置:關於本所 / 重要研究成果 / 第 1 頁