生物物理與分析技術組

Biophysical characterization and modulation of Transthyretin Ala97Ser
Annals of Clinical and Translational Neurology, 2019 Oct;6(10):1961-1970. DOI:10.1002/acn3.50887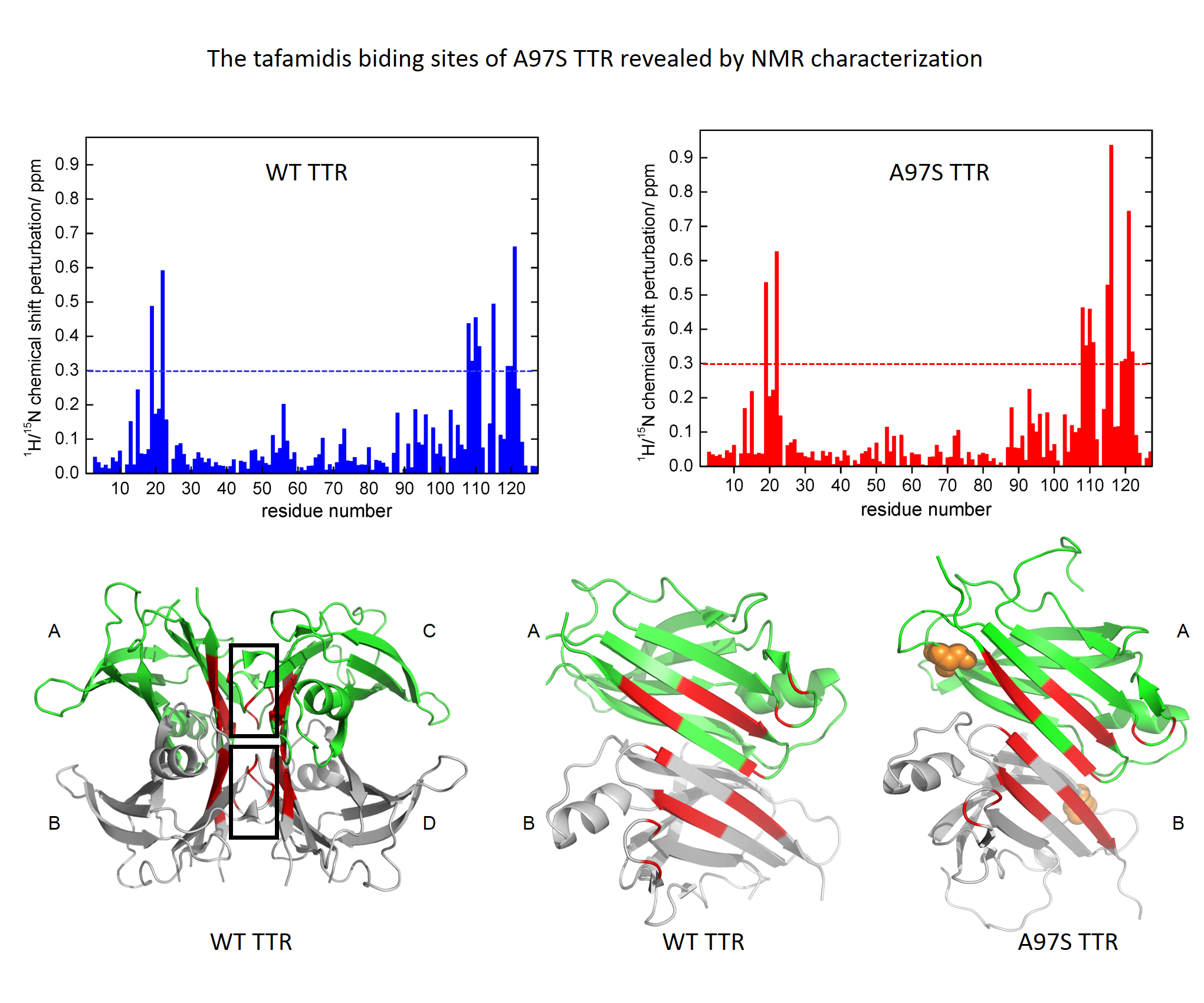 Objective: Ala97Ser (A97S) is the major transthyretin (TTR) mutation in Taiwanese patients of familial amyloid polyneuropathy (FAP), characterized by a late-onset but rapidly deteriorated neuropathy. Tafamidis can restore the stability of some mutant TTR tetramers and slow down the progression of TTR-FAP. However, there is little understanding of the biophysical features of A97S-TTR mutant and the pharmacological modulation effect of tafamidis on it. This study aims to delineate the biophysical characteristics of A97S-TTR and the pharmacological modulation effect of tafamidis on this mutant.
Method: The stability of TTR tetramers was assessed by urea denaturation and differential scanning calorimetry. Isothermal titration calorimetry (ITC) was used to measure the binding constant of tafamidis to TTR. Nuclear magnetic resonance spectroscopy (NMR) titration experiment was used to map out the tafamidis binding site.
Results: Chemical and thermal denaturation confirmed the destabilization effect of A97S. In consistent with other amyloidogenic mutant, A97S-TTR has slightly lower conformational stability. NMR revealed the binding site of A97S-TTR with tafamidis is at the thyroxine binding pocket. The ITC experiments documented the high affinity of the binding which can effectively stabilize the A97S-TTR tetramer.
Interpretation: This study confirmed the structural modulation effect of tafamidis on A97S-TTR and implied the potential therapeutic benefit of tafamidis for A97S TTR-FAP. This approach can be applied to investigate the modulation effect of tafamidis on other rare TTR variants and help to make individualized choices of available treatments for FAP patients.
目前位置:本所人員 / 研究人員 / 余慈顏 / 研究成果