Visa for Taiwan
Visa-exempt Entry
The nationals of the following countries are eligible for the visa exemption program, which permits a duration of stay up to 90 days: Austria, Belgium, Bulgaria, Canada, Cyprus, Czech Republic, Denmark, Estonia, Finland, France, Germany, Greece, Hungary, Iceland, Ireland, Israel, Italy, Japan, Republic of Korea(effective from July 1, 2012), Latvia, Liechtenstein, Lithuania, Luxembourg, Malta, Monaco, the Netherlands, New Zealand, Norway, Poland, Portugal, Romania, Slovakia, Slovenia, Spain, Sweden, Switzerland, U.K. , and Vatican City State.
The nationals of the following countries are eligible for the visa exemption program, which permits a duration of stay up to 30 days: Australia, Malaysia, Singapore, U.S.A..
The nationals of India, Thailand, Philippines, Vietnam, Indonesia, who also possess a valid visa or permanent resident certificate issued by U.S.A., Canada, Japan, U.K., Schengen Convention countries, Australia or New Zealand, are eligible for the visa exemption program, which permits a duration of stay up to 30 days.
Visitor Visa
Requirements of applying Visitor Visa:
A passport valid for at least six months;
A duly completed application form with two photos taken within the past six months;
An outbound airline ticket or verifiable proof of purchase of steamship ticket ;
Documents verifying the purpose of visit; and
Other relevant documents.
For more detailed information, please visit the website of
the Bureau of Consular Affairs, Ministry of Foreign Affairs
:
http://www.boca.gov.tw/np.asp?ctNode=776&mp=2
Formosa - The Beautiful Island
Taiwan is the repository of captivating natural sceneries, such as the awe-inspiring Taroko Gorge, National Palace Museum, the tallest building of Taiwan - Taipei 101, and the highest mountain in the Northeast Asia - Yushan (Jade Mountain). Taiwan is also a paradise for gourmets to taste the varied delicate and delicious cuisines, such as local Taiwanese snacks, Hakka dishes, Chinese cuisines, and unique aboriginal foods. Gourmets may try the foods with local flavors in the night markets, and have exquisite dining in five-star hotels. Taiwan is absolutely a place that tourists may not want to miss.
Highlights of Taiwan
Taipei City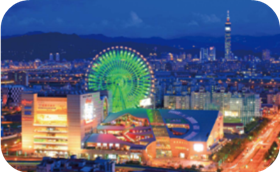 Taipei city is situated in a basin in northern Taiwan that was inhabited by aboriginal peoples until settlers from China moved into the area about 300 years ago. Eastern Taipei was largely underused fields until the nineteen-seventies, when the city began to develop the area as a financial and commercial district. Here, the modern face of Taipei shines through, with its glass and steel skyscrapers, wide boulevards, and the world's second tallest building, Taipei 101. Taipei also boasts dozens of world-class performance venues, where you can enjoy world-class theater and concert events. The city also offers a wide range of other diversions -- shopping malls, nightclubs, live-music bars, quality hotels, and exotic restaurants.
National Palace Museum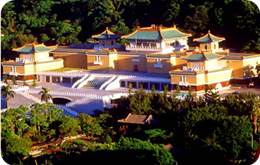 The National Palace Museum houses the world's largest collection of priceless Chinese art treasures, one which spans China's nearly 5,000-year history. Most of the museum's 620,000 art objects were part of the Chinese imperial collection, which began over 1,000 years ago in the early Sung dynasty. National Palace Museum is protecting and preserving the 5000-year cultural legacy of China with advanced technologies; cooperating with private connoisseurs and ushering in exhibitions from China; bringing the Museum's collection to the global community and welcoming arts of the world to the Museum.
Sun Moon Lake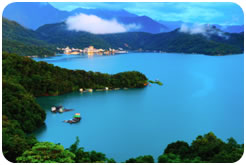 Sun Moon Lake is located in Yuchi Township of Nantou County. It has a total area of 7.73 square kilometers. The sun shape of the northern half and the crescent moon shape of the southern half of the lake earned the lake its name. Sun Moon Lake is a vast expanse of crystal dark green water lying in the embrace of towering mountains. The resplendent mountain and water scenery give tourists a choice for enjoyment and a leisurely sightseeing tour from afar or near the lake.
Venue: National Taiwan University of Science and Technology (NTUST)
National Taiwan University of Science and Technology (NTUST) is located in Taipei downtown area which is about 10-minute walk from Gong-Guan MRT (mass rapid transit) station. You can take buses or taxies to get to Taipei from CKS International Airport. Bus platforms are available at both Terminal I and II. Terminal I Bus Platform is on the southwest side of the Arrival Passenger Reception Area, while Terminal II Bus Platform is on the northeast side of the Arrival Passenger Reception Area on the first floor of the terminal. Adult single fares vary from NT$120 to NT$150. The journey time is about one hour in moderate traffic. Taxies are available 24 hours a day outside the Arrival Hall of both terminals. Airport taxies charge according to the meter in addition to a 50% surcharge (highway tolls not included) and provide transport to anywhere in Taiwan. A typical taxi fare to Taipei is approx. NT$1,100. You can visit the website, www.cksairport.gov.tw/CKSeng/transportation/taipei_e.jsp, for more buses and taxies information. After getting to Taipei, MRT, buses or taxies are all available to get to NTUST. You can visit Taipei Bus & Transportation Information System at www.taipeibus.taipei.gov.tw/index_e.htm for more information.
Map:
View Larger Map
Leader Hotel – Taipei
Address: No. 83, Sec. 4, Roosevelt Rd., Taipei, Taiwan
Tel: +886-2-8369-2858
Fax: +886-2-8369-2859
E-mail: ntu@leaderhotel.com
Leader Hotel is located on Roosevelt Road and adjacent to MRT and Kungkuan shopping area. Its convenient location allows you to access most of the sightseeing spots by Metro or buses. Welcome to Taiwan and we are delighted to guide you to discover the beauty of Taiwan.

Howard Civil Service International House
Address: No.30, Sec. 3, Xinsheng S. Rd., Da'an Dist., Taipei City 106, Taiwan
Tel: +886-2-7712-2323