Travel
Transportation Info
The symposium will be held in Dr. Poe Lecture Hall, Institute of Atomic and Molecular Sciences (IAMS), Academia Sinica (inside National Taiwan University main campus).
From Taoyuan Airport to Taipei Main Station
By bus

Kuo-Kuang Motor Transport - Kuokuang Line(No.1819)

Fare: full fare NT$125 / half fare NT$65 / round-trip NT$230
Intervals: 15-20 minutes
Trip Length: about 60 minutes
Business Hours: 24hours
Other Information: http://www.taoyuan-airport.com/english/Buses/
Ticketing: Tickets sold at bus counters.

Terminal 1 bus pickup point: Bus pickup zone at B1 Arrivals.
Terminal 2 bus pickup point: Bus pickup zone at the northeast arcade of the 1st floor Arrivals lobby.

By Taxi

Taxis operating by shifts are located at the west side of the Terminal 1's and Terminal 2's Arrivals Lobby at the Taiwan Taoyuan International Airport.
From Taipei Main Station To IAMS:
By Taxi

Taking a taxicab is the easiest way.


By Taipei MRT

Purchase a single journey ticket heading to "Gongguan station (Songshan-Xindian line)". Take MRT Songshan-Xindian line and get off Station Gongguan.
(Fare: NTD$20/adult, the travel time between stations: ca. 12 minutes)
Walk to Exit #3 of Station Gongguan and take a 8-minute walk to IAMS.

Form Taipei Songshan Airport to IAMS:

* The airport serving domestic flight in Taiwan, and also to China, South Korea and Japan.
By Taxi

Taxi rank is located outside the Arrivals Lobby.


By Taipei MRT

Purchase a single journey ticket heading to "Gongguan station (Songshan-Xindian line)". Take MRT Songshan-Xindian line and get off Station Gongguan.
Take Line 1 Wenhu line (to Taipei Zoo) from Songshan Airport Station to Nanjing Fuxing Station and transfer to Line 3 Songshan-Xindian Line to Gongguan Station.
Walk to Exit #3 of Station Gongguan and take a 8-minute walk to IAMS.
Fare: Single-Journey Ticket full NT$30
Travel time: 25-35 minutes
Pickup point: Terminal 1 (in front of International Flights)
Business Hours: about 06:00 to 24:00.
Other Information: http://www.tsa.gov.tw/tsa/en/page.aspx?id=1061
Click here for more information: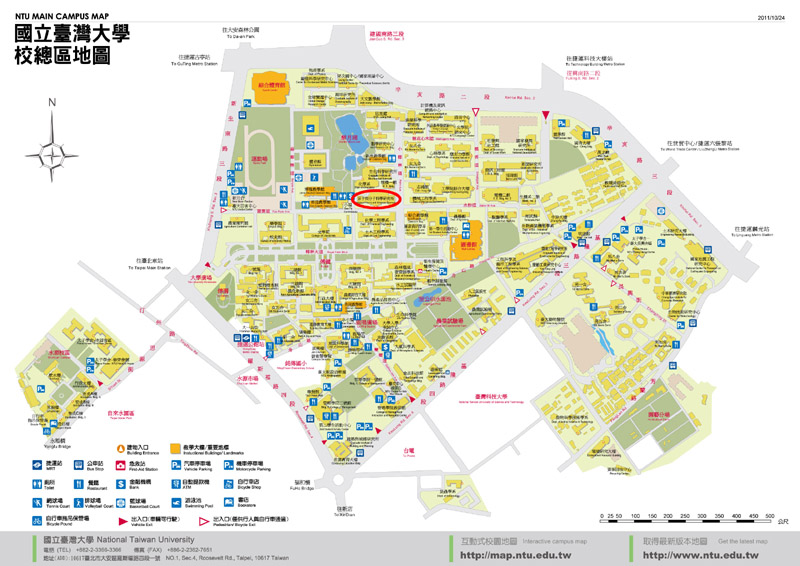 Taipei MRT Route Map